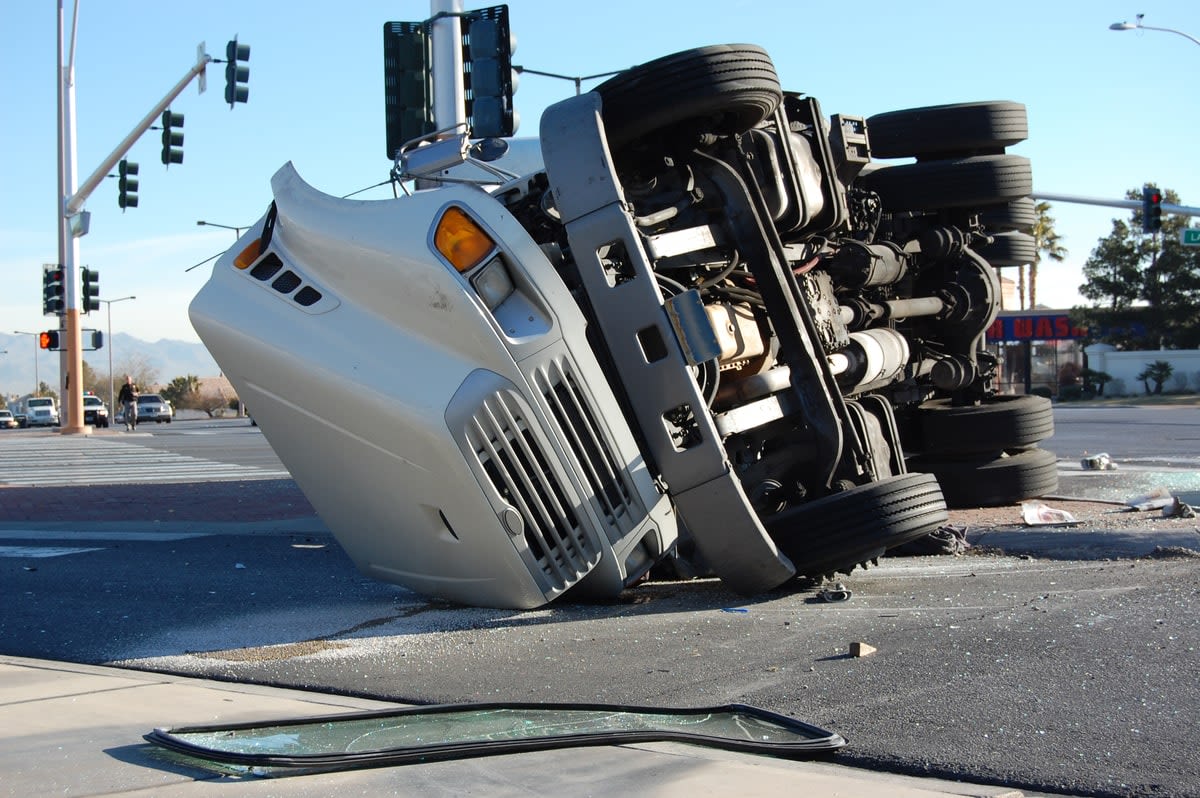 Common Questions About Oklahoma Truck Accidents
---
Large commercial semi-trucks travel all over Oklahoma and the U.S. every day, delivering everything from produce and livestock to electronics and hazardous materials. While semi-truck drivers have a big job to do, semi-trucks make up only about 5% of all registered vehicles in the U.S., which makes accidents involving large trucks being responsible for 13% of all fatal accidents seem shockingly high.

In Oklahoma, an average of 138 car crash fatalities a year result from truck crashes. Thankfully, not all accidents involving a semi result in fatalities. But those who are in accidents involving large trucks such as semi-trucks, tractor-trailers, and 18-wheelers can still expect to suffer serious injuries because of how large and heavy these trucks are.
What Are the Most Common Causes of Truck Driver Accidents?
Because semi-truck drivers work all over the country, they must adhere to different state and federal regulations when they're working and driving. Semi-truck drivers must also go through extensive training before they can hit the open road.
These regulations are for the safety of the drivers themselves, and other commuters out on the road. And though truck drivers have a greater responsibility, they can still be negligent and at fault in accidents. The three most common causes behind a truck driver accident are:
1. Driver fatigue: Drivers work long hours by themselves and have to drive long distances. Driving naturally induces sleepiness in our bodies, thanks to the car or truck's vibrations. Driver fatigue can also be caused by not getting enough sleep or driving during times when you normally sleep. Driving while tired has similar effects as driving after drinking and slows reaction times and decreases alertness and road awareness.

2. Demanding schedules: Truck drivers have strict work and delivery schedules they must adhere to, and this puts them at risk for driving irresponsibly, speeding, rushing, and not driving safely according to the road conditions.

3. Defective manufacturing or faulty truck maintenance: Semi-trucks can have manufacturing errors just like other vehicles, which is why they need to be checked and maintained frequently. If they're not maintained properly, accidents can happen. Wearing through tires and burning through brakes are two common maintenance issues that can cause an accident.
What Are the Different Types of Semi-Truck Accidents?
The most common type of motor vehicle accident for regular passenger cars is a rear-end accident. While truck accidents can involve rear-end collisions, they usually experience different types of accidents. They are:
Truck rollovers: Semis have a higher center of gravity, making them easier to flip than passenger cars, and they require extra-cautious driving because of this. Rollover truck accidents can happen when the driver is going too fast, turns too sharply, or is driving recklessly.

Jackknife accidents: A jackknife accident is when the trailer behind the truck's cab swings around from behind the cab, resulting in the shape of a folding jackknife. These accidents are typically caused by improper braking or turning too fast.

T-bone accidents: T-bone accidents happen when a semi-truck broadsides, or creates a side impact on, another vehicle. These typically occur at intersections and are particularly devastating to the driver or passenger seated on the side of the vehicle hit by the semi.

Sideswipe accidents: These accidents occur when a vehicle that's traveling alongside a semi is hit by the semi and are usually the result of drivers not checking their blind spots before changing lanes or merging into traffic.

Wide-turn accidents: Semis need a large radius to turn within, and wide-turn accidents happen when the driver hasn't allowed themselves enough room before making a turn. Right-hand turns are typically tighter than left-hand turns, and if the driver isn't taking the proper precaution in making a wide turn, they can hit landmarks, curbs, street signs, other vehicles, and even pedestrians.
Do I Need an Expert Lawyer if I'm in a Semi-Truck Accident?
Yes, if you're in a semi-truck accident, you will need a lawyer to help because semi-truck accident cases are more complicated than an average motor vehicle accident case. Truck driver accidents have more extensive insurance policies to navigate, differing laws and regulations, greater property damage to deal with, far greater injuries and fatalities occur, and truck accidents incur much greater damages costs.

If you've been injured in a truck crash, you need to hire an expert semi-truck accident lawyer to represent you, like the heavy-hitters® at the Law Offices of Jeff Martin and Associates.